Wolf Alice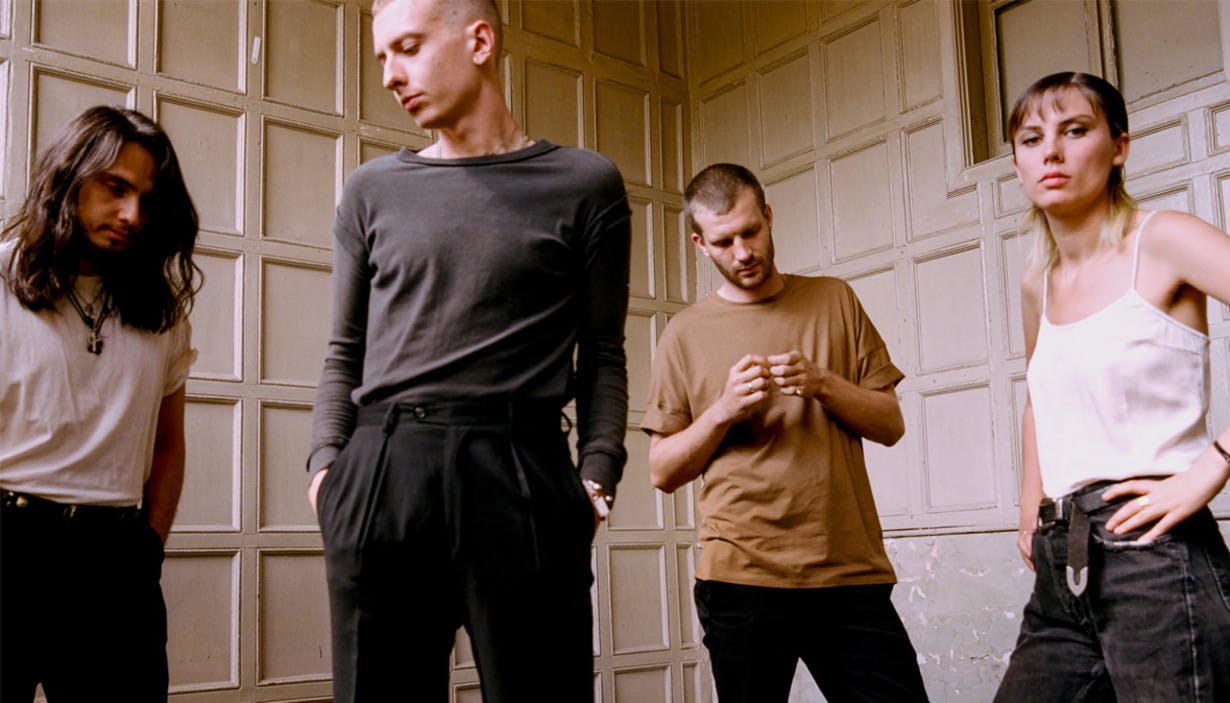 Having scored Grammy, BRIT, Ivor Novello and Mercury Prize nominations for their debut, London rockers Wolf Alice could scarcely have gotten off to a better start. We caught up with lead singer Ellie Rowsell to hear how they coped with the two years of constant touring around My Love Is Cool, and to find out more about their much-anticipated second album, Visions Of A Life.
You've just done a run of club shows. How was it playing those small venues again?
Yeah, it was really fun. It was nice to go to places that we'd not been and nice to return to some old places as well, and fill up the venues that we couldn't fill up before.
What was the thinking behind doing that intimate tour?
I think we were quite intimidated by the idea of starting this new album campaign in huge venues so we wanted to road-test the tunes in smaller venues, which would also be quite intimate and sweaty and fun. And to support independent venues, and get to places that aren't always hit by the normal touring circuit.
How did the new material go down with the audiences?
Yeah, I mean we were really pleasantly surprised about how many people were already singing along to "Don't Delete The Kisses" and "Yuk Foo" and stuff. It was a really interesting seeing which songs are instantaneous live, by playing a few of the songs that nobody's heard before, and switching up the set.
It felt like you toured My Love Is Cool non-stop. Did it feel like that for you?
Yes. (Laughs) It was really fun. We were playing so many places, and we're at different levels across the world so each place is really varies because we play to such different-sized crowds. It was really exciting. It was tiring as well but you learn to find your feet and how to create a schedule that works for you.
Your debut album got nominated for just about every music award going. Was there any extra pressure for this follow-up?
Luckily for us we didn't win any awards so there's always room to go up. (Laughs) But the biggest pressure comes from ourselves to realize what we have imagined in our heads and to do the songs justice in a recording studio. And to make an album that you feel is, not necessarily better than the one before, but I guess in many ways better than the one you've made before.
You were on the Mercury Prize judging panel last year. How was that experience?
It was cool. It's a weird one because I don't think you can really judge music. It's an obvious thing to say, but music is subjective and it shouldn't be a competition. Saying that, the Mercury Prize is quite nice in the way that – less so than the other award ceremonies – it's less about who's got the best manager or whatever. You still have to pay a fee to enter the Mercury Prize, but it's nice to celebrate British and Irish music that isn't necessarily getting that much media attention through the radio or the charts. And it was nice to be introduced to lots of artists that I perhaps wouldn't have ever thought to seek out.
When do these new songs date back from?
These songs we had a much shorter time to write. We often collate ideas whilst we're on tour, so instead of setting aside a specific amount of time to write songs, we set aside a short amount of time to refine all the ideas that we'd already collated from touring. But you have your whole life to write your first album so it can be quite daunting that you only have a certain amount of time to write the next one, if you want to keep riding the wave. But we were lucky; we didn't really suffer from that anxiety too much. I remember "Sadboy" was one of the first songs that we played live together in our rehearsal room, and we were like, "This is really fun. This is going to be good." And we let excitement overtake anxiety and nerves.
For the benefit of people yet to hear the album, what can they expect from Visions Of A Life?
Solid bangers.
There's a sense of you not holding back emotionally, whether that's the rage of "Yuk Foo" and "Formidable Cool" or being unapologetically romantic on "Don't Delete The Kisses". Can you tell us about where that impetus came from?
Growing older, growing more confident. Learning from experience: life experience but also experience in the studio and on tour, and from touring with other bands. It's just a confidence thing I suppose. I mean, I don't think I'm particularly any more angry than anyone else, I just think if you're having a sh*t day, or if someone's being a piece of shit to you, then it's just a reaction to that. Take what you will from that, you know? Make it your own.
Is there anything you particularly wanted to do differently with this second album?
I think you start with ideas of what you want to do differently, but I think we realized we don't really work very well with preconceived ideas. We just let things inspire us as they will and create what comes naturally to us without too much over-thinking. But it was a much better experience because we were afforded a lot more time in the studio, the studio was nice and we'd learned things from our previous studio experiences. We're older and wiser, so it was a really nice experience.
And Justin Meldal-Johnsen produced. Why did you reach out to him?
We felt that he was a good person to work with because he's got such a variation amongst his roster of work. Him being in a band with Beck – who is one of the most diverse artists around – was appealing for us. It's nice to work with a musician with perfect pitch, and he's been in bands his whole life so there's that perk to it that he's understanding of band dynamics. And he's a collaborator, you know? He knows that this is our project as well as his, and that these songs are dear to us, so he's not going to step on our toes too much. He acts like a fifth member really rather than an old skool producer who perhaps lays down laws.
What's your current favorite track on the album?
I really like "St. Purple & Green". I feel like that one will be a grower for people. And, yeah, I like the fun ones like "Don't Delete The Kisses" and "Beautifully Unconventional" as well.
As a band you've been vocal about supporting causes you care about, whether that's encouraging young people to vote or playing benefits for refugees. This album feels quite a personal record. Were you reticent about incorporating political issues into your music?
No, I mean I have done that. I've written songs that are perhaps more a social commentary, or they might involve politics, but we just chose the songs that we thought were the best. In this day and age you can get your opinion across about things that are important to you in other ways, you know? You're afforded that with social media. And at this moment in time, my best lyrics are the ones that are about those kinds of things which are a little bit harder to explain in everyday conversation. Less tangible things.
What have you learned in the making of this album in particular?
That it's fun to experiment and to be brave, and to let people do their thing. I'm really proud of [the album] because everyone keeps talking to me about second album anxiety, second album pressure. But for four relatively over-thinking, quite anxious people, we were pretty chill. Maybe that was something to do with Los Angeles and the good weather but even when we were writing it we were quietly quite confident, and I'm proud of us for that.
September 2017