London Grammar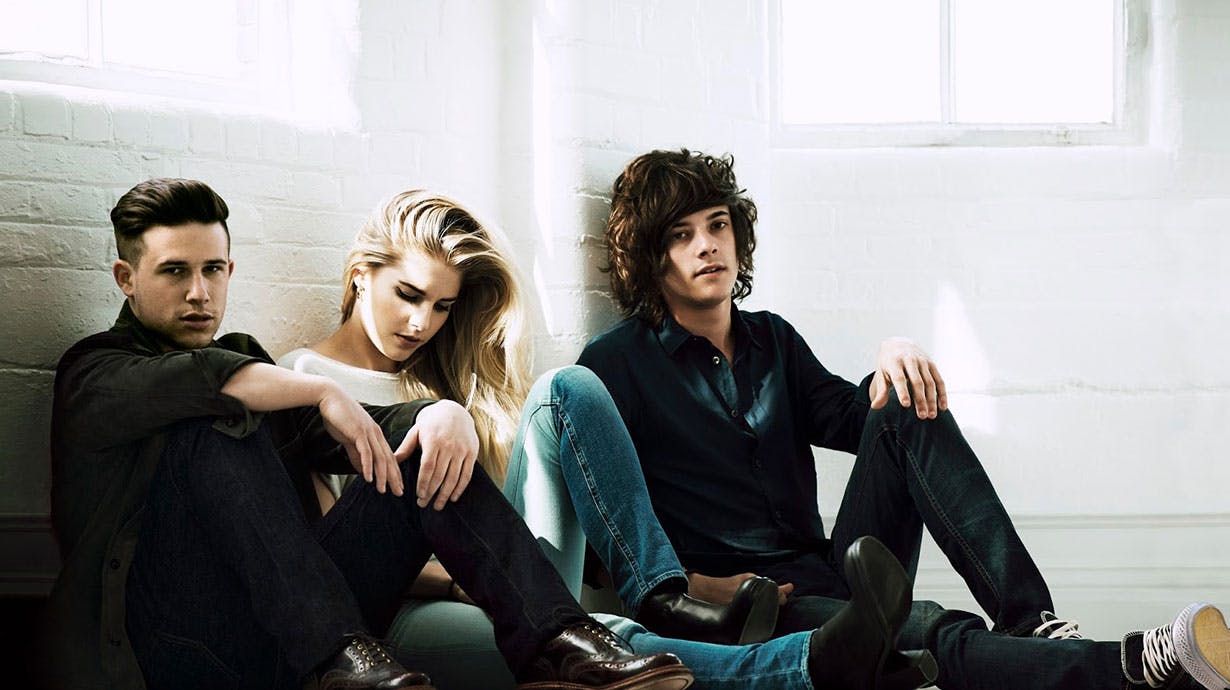 Combining the minimalist electronic sounds of The xx with the windswept romance of Florence + The Machine, London Grammar are one of the most talked-about young bands of 2013 so far. We caught up with the trio to discuss the origins of the band and the inspirations behind their debut.
Hi guys. For the benefit of those who might not know much about you yet, can you explain how the band formed, please?
Dan Rothman: I met Hannah whilst in my first year at Nottingham Uni; we were in the same halls of residence. We started playing gigs around the area, and soon after we met Dot who was in the year below us.
What's the story behind your name?
DR: This is a bad story! When me and Hannah first started playing in Nottingham, we wanted to have "London" in it, as a way of singling us out from other bands in the area. Then we added "Grammar" just because it sounded good!
Were you all making music separately before getting together?
DR: We had all written and performed music in some capacity before London Grammar, but just at a school band-type level. So, basically very amateurishly! London Grammar was the first time any of us had been working on music that had the potential to reach a wide audience.
Presumably you must have bonded over some shared musical tastes?
DR: Our tastes differ a lot as it happens, and we often argue over artists or bands. There are, of course, some shared loves, including bands like Radiohead, Little Dragon and The National. We tend to bond over bands with a similar aesthetic to ours, so basically those artists who make quite melancholy music! The biggest point of contention is still The Smiths. I'm a huge fan but Dot really dislikes them, mainly because of Morrissey's voice.
Can you name three albums you've all agreed on this year?!
DR: Jon Hopkins' Immunity. He's an amazing producer, and his experimental electronica is by far the most exciting of its kind. We all liked Trouble Will Find Me by The National, too. It's just another consistent record; almost every track is brilliant. And then Disclosure's debut because the impact they made with the record is extraordinary. And we were lucky enough to be a part of it!
So a big congratulations on If You Wait – it's beautiful. How long did the album take to write and record in total?
DR: Thank you! From writing the first song to finishing the album, it took probably the best part of three years. It seemed like a very long process at times, because we labored over and scrutinized the finest details. But I think that is the case with a lot of bands making their debut album.
For the benefit of those yet to hear it, can you sum up what they can expect, please?
DR: People can expect to hear more of what we released as part of the EP. We wanted to make an album that had a consistent mood and style running throughout. There are a couple of little surprises too, including a cover version we are very proud of.
Sonically, what did you want to achieve with the album?
DR: Mainly that we wanted to write affecting music, and produce it in a simple and spacious way, and make a record with a consistent mood and feel. Our favorite albums are those that sound like one solid piece of music, rather than albums that chop and change style and moods. Good reference points are albums like Spirit of Eden by Talk Talk, and film soundtracks by composers like Thomas Newman.
You're frequently compared to The xx too. Do you think that's a fair comparison?
DR: It is certainly a fair comparison in some respects. There is a similarity in the sonics of some of our songs. Having said that, I think Hannah's vocals and the structures of our songs does nullify the comparison slightly.
The album was produced by Tim Bran and Roy Kerr: in terms of their previous output, they're pretty different producers. Did their approaches differ in the studio?
DR:  Well they work as a pair; we didn't work with them separately. Tim brings a great deal of experience when it comes to recording live instrumentation and vocals, and Roy is more experienced in electronic production.
I think, most crucially, they brought a level of experience that helped us bring together all the elements of what we had been working on for the previous couple of years. Rather than bringing anything to the sound specifically, they just helped us realize ours, which is the best thing a producer can hope to do.
Lyrically, it's a pretty melancholy record. Where are you drawing inspiration from, Hannah?
Hannah Reid: They certainly come from experiences I have had in life, usually from relationships or encounters I have had with other people. I am fascinated by human psychology, and I draw a great deal of inspiration from that.
Do you have a favorite track on the album?
HR: 'If You Wait'. I wrote that song almost two years ago, and it's very close to my heart.
DR: 'Shyer' and 'If You Wait' because they're the two songs I can still listen to!
Dot Major: 'Sights'. It's probably the grandest-sounding song on the album.
You've enjoyed a rapid rise to fame. What has been the most surreal part of your time in London Grammar so far?
DR: I think the most surreal thing has been the spread of the music outside of the UK. The excitement in Australia for our first song 'Hey Now' was a really bizarre thing. And then doing shows in Germany and Poland, and thousands of people watching us, has been mind blowing.
Aside from that, a highlight was a recent show at Wilderness, were we played a late night slot on a tiny stage to about 3,000 people. It was a special moment.
Finally, what's the ultimate ambition for London Grammar?
DR: I think we would all just love to be able to make a second album, and then a third. Just to continue making music is the main goal.
September 2013