Dua Lipa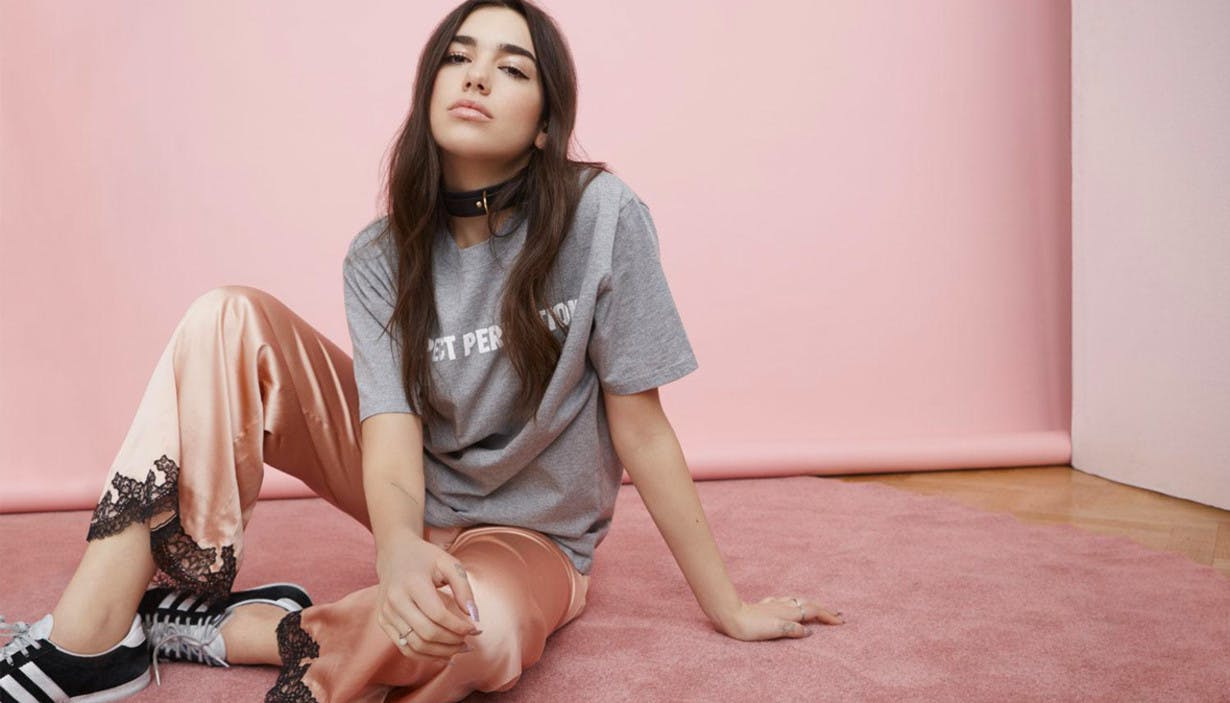 She started the year on the BBC Sound of 2016 longlist, and now Dua Lipa is ending it with a BRIT Award nomination for Critics' Choice under her belt. We gave the hotly-tipped singer-songwriter a call to hear all about her whirlwind 12 months, her fearsome work ethic and the "dark pop" on her forthcoming debut album.
Hi Dua, where are you today?
I'm in London. I know, I'm all over the place. (Laughs) I have no idea where I am most of the time myself, but I landed from the USA yesterday morning and I am in London right now.
You've just finished a US tour with Troye Sivan, right? How was that?
Yeah, that's right. That was a lot of fun. I could talk about him for hours; he is such a sweetheart, and so hard-working as well. They made us feel so welcome on the tour that it just didn't feel like a support tour; it really felt like were doing our own little mini show every night. And the audiences were so, so great. I mean, it's crazy to have fans over there, so far away from home and it's really exciting. I've fallen in love with New York so much that I think it's my second favourite place in the world after London, for sure.
It feels like you've been touring non-stop all year. Are you actually bothering to unpack your bags at this stage?
(Laughs) I live out of a suitcase, all of the time. Even now that I'm at home, I know I'm going to be leaving really soon again, and I don't really have enough time to unpack, so I've got a massive suitcase on my bedroom floor, leaking clothes.
You've always been very driven, haven't you? Are we correct in thinking that you moved to London alone, aged 15, to attend stage school?
So I was born and raised in London, and at the age of 11 I moved to Kosovo. I started singing in school and I found out that I really loved performing in front of an audience. I had so many friends in London and I always wanted to go back, so it just happened sooner rather than later. I always had my heart set on doing music and I was always very career-driven; even though I was sometimes a silly kid, I've always known what I wanted my end goal to be.
It must have taken some self-discipline to live alone at that young age?
Yeah, living on my own was a bit of a nightmare because, as fun as it was having my friends over, I had to actually learn how to look after myself, after living at home with my parents, with my mum doing pretty much everything for me. There was nobody to tell me to tidy up my room, so I actually had to get up and do it at my own will. (Laughs) It was like, "Ok, I'm like an adult now and I have to do all of these things myself." And it was at that point where I realised that if I wanted to be successful in music, the only person that was going to get [that success] for me was myself. Nobody else was gonna push me, or make me get up and be productive with my day. So I think that had a massive impact on me. I had to "adult" every day, and that's what made me who I am and pushed me to work really, really hard.
All that hard work seems to be paying off this year. How have your hopes for 2016 compared to the reality?
They've exceeded reality, especially after being in the studio for such a long time, too. I've never done the same thing two days in a row, I've seen so many different places I've never been to before, and it's been exciting to see the venues I've performed in gradually growing. It's kinda crazy it's December now; it's like, where has the time gone?! There are so many great things to look back on, it's just been magical. I've had the best year of my life so far.
Speaking of the studio, can you tell us more about your forthcoming debut album?
I've been working on it for two years now, and that's including me trying to find my sound for a good four to six months. I was just writing loads of songs and trying to figure out what I liked and what I didn't like, and how I like to work, and who I like to work with as well. It's just been so much fun and I've worked with so many cool people, like Emile Haynie and Andrew Wyatt.
Everything I've written about is very personal to me and I'd describe my sound as dark pop. I feel like that's because I'm very inspired by sadness; it's something that lingers in my mind for the longest, and something that I find really easy to write about. Also, it's a very diverse album and I don't think it's what people are expecting. I want to surprise people.
Singles aside, which song on the album are you most excited for fans to hear?
I'm excited for people to hear a song called 'Genesis'. It's got a tiny bit of a different vibe, musically, it's really fun to perform live, and it really tells a story – a really honest story – about the crazy life that I'm living, chasing this career. And also there's a song that I wrote very, very recently – and that only very recently joined the album – called 'No Goodbyes'. I don't really want to give too much away, but they're all storytelling moments that will let people get to know me a bit better.
Is there anything you've learned in the making of the album?
I've learned a lot. I've learned to open up a lot. There are so many things bottled-up inside of me that I don't feel like I would ever be able to get them out. There were things that I didn't even realise were going on in my life, or times when I didn't really know what I was feeling until I actually sat down and wrote about it. I had to open up to people who essentially were strangers, and it was quite refreshing.
What lies between now and Christmas for you? Have you finished for the year yet?
No. I will have Christmas Day off and possibly the week after. I don't plan on getting on a plane or travelling, which will be nice. I just want to stay on the couch all week. (Laughs) But up 'til then I've got a few radio shows, and I'll be going back to New York for two days to do some more promo. Yeah, I can't stop, and I won't stop until I really have to, which is probably Christmas Day because nobody works on Christmas Day. (Laughs)
Beyond the album release in February, what do you have on the horizon? Any more collaborations?
Yeah, we might have another surprise coming. I've got a new single, 'Be The One', coming out in the UK, so we'll be doing that through to next year, and then I guess just getting ready for the album. Yeah, it just doesn't stop.
Where would you like to be in your career this time in 12 months?
Ooo this time in 12 months... Well I'm planning on a really big tour for my album, and there'll be new videos and festival season, and a lot more exciting things to come. I feel like once the album's out that's when the hard work really, really starts. I'm looking forward to it.
December 2016