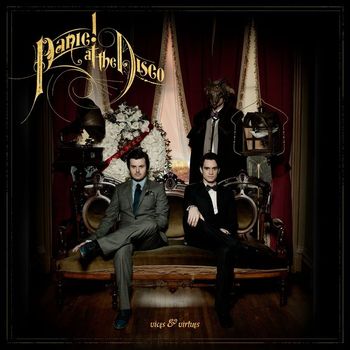 Preview Vices & Virtues
Record Label:
Decaydance/Fueled By Ramen
7digital

What we said:

Those eagle-eyed punctuation fans amongst you may have noticed that Vegas-rockers Panic! At The Disco have reinstated that extravagant exclamation mark. Perhaps this time round it's more than a mere affectation, seeing as in the time elapsed since last album Pretty. Odd., half their members have scarpered, citing artistic differences, leaving singer Brendon Urie and percussionist Spencer Smith holding the fort. Like the troopers they are, they've soldiered on regardless, and whilst Fall Out Boy's Patrick Stump might have been drafted in to share some of the songwriting duties, Vices and Virtues sees Urie playing practically every note on what is a lushly-instrumented, emo-electro opus, and no little achievement for a skeleton staff of two.
| Track Number | Track Title | Track Length | Track Price/Buy Link |
| --- | --- | --- | --- |
| 1 | The Ballad of Mona Lisa | 3:49 | |
| 2 | Let's Kill Tonight | 3:33 | |
| 3 | Hurricane | 4:25 | |
| 4 | Memories | 3:25 | |
| 5 | Trade Mistakes | 3:36 | |
| 6 | Ready to Go (Get Me Out of My Mind) | 3:37 | |
| 7 | Always | 2:33 | |
| 8 | The Calendar | 4:43 | |
| 9 | Sarah Smiles | 3:33 | |
| 10 | Nearly Witches (Ever Since We Met...) | 4:16 | |
Duration:

37:30
Genres:
℗ 2011 Fueled By Ramen LLC, for the United States and WEA International Inc. for the world outside of the United States. All Rights Reserved
© 2011 Fueled By Ramen LLC, for the United States and WEA International Inc. for the world outside of the United States. All Rights Reserved