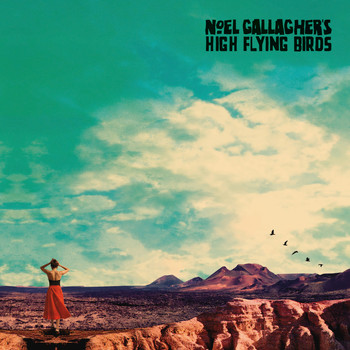 Preview Who Built The Moon?
Record Label:
℗ 2017 Sour Mash Records Ltd. under exclusive license to Universal Music Operations Limited
7digital

What we said:

Before 2017, Noel Gallagher enjoyed a good six or so years of uninterrupted attention from Oasis fans. But now former-frontman Liam's riding high with As You Were, Noel's suddenly got competition, not to mention a ubiquitous and particularly vocal critic in his estranged younger brother. It has to be said, Noel doesn't sound especially bothered on this, his third High Flying Birds album. Produced by David Holmes, packed with lush arrangements and drenched in reverb, Who Built The Moon is Noel's most cinematic, ambitious and energetic solo set yet, moving from Kanye-inspired psych-rock ('Fort Knox') to spacey, Krautrock ('She Taught Me To Fly') via horn-driven, Vaccines-ish romps ('Holy Mountain').
| Track Number | Track Title | Track Length | Track Price/Buy Link |
| --- | --- | --- | --- |
| 1 | Fort Knox | 3:58 | |
| 2 | Holy Mountain | 3:55 | |
| 3 | Keep On Reaching | 3:25 | |
| 4 | It's A Beautiful World | 5:17 | |
| 5 | She Taught Me How To Fly | 5:02 | |
| 6 | Be Careful What You Wish For | 5:40 | |
| 7 | Black & White Sunshine | 3:42 | |
| 8 | Interlude (Wednesday Part 1) | 2:10 | |
| 9 | If Love Is The Law | 3:25 | |
| 10 | The Man Who Built The Moon | 4:28 | |
| 11 | End Credits (Wednesday Part 2) | 2:27 | |
| 12 | Dead In The Water (Live At RTÉ 2FM Studios, Dublin) | 5:22 | |
Duration:

48:51
Genres:
℗ 2017 Sour Mash Records Ltd. under exclusive license to Universal Music Operations Limited
© 2017 Sour Mash Records Ltd. under exclusive license to Universal Music Operations Limited