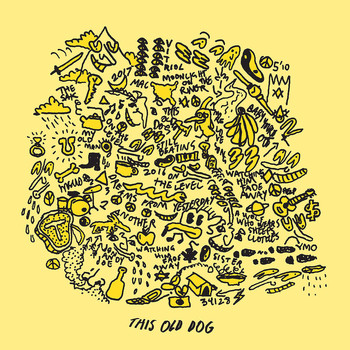 Preview This Old Dog
Record Label:
Royal Mountain Records
7digital

What we said:

With his lo-fi sensibility, affable demeanor and consistent refusal to take his art too seriously (be that disclosing his address or offering to make fans coffee) Mac DeMarco is often referred to as the key figurehead of a growing slacker-rock movement. Whilst not an inaccurate moniker, such a reputation should not belie the impressive craft applied to This Old Dog, which is easily his most polished and focused effort to date. For beneath the lackadaisical arrangement of off-kilter synths and chorus-laden guitars sits a surprisingly personal collection of songs, which address his troubled father's recent illness with equal deftness and directness.
| Track Number | Track Title | Track Length | Track Price/Buy Link |
| --- | --- | --- | --- |
| 1 | My Old Man | 3:42 | |
| 2 | This Old Dog | 2:31 | |
| 3 | Baby You're Out | 2:38 | |
| 4 | For The First Time | 3:02 | |
| 5 | One Another | 2:46 | |
| 6 | Still Beating | 3:02 | |
| 7 | Sister | 1:18 | |
| 8 | Dreams From Yesterday | 3:27 | |
| 9 | A Wolf Who Wears Sheeps Clothes | 2:49 | |
| 10 | One More Love Song | 4:01 | |
| 11 | On The Level | 3:48 | |
| 12 | Moonlight On The River | 7:03 | |
| 13 | Watching Him Fade Away | 2:23 | |
| 14 | My Old Man (Instrumental) | 3:40 | |
| 15 | This Old Dog (Instrumental) | 2:30 | |
| 16 | Baby You're Out (Instrumental) | 2:36 | |
| 17 | For The First Time (Instrumental) | 3:05 | |
| 18 | One Another (Instrumental) | 2:46 | |
| 19 | Still Beating (Instrumental) | 3:00 | |
| 20 | Dreams From Yesterday (Instrumental) | 3:27 | |
| 21 | A Wolf Who Wears Sheeps Clothes (Instrumental) | 2:47 | |
| 22 | One More Love Song (Instrumental) | 4:01 | |
| 23 | On The Level (Instrumental) | 3:45 | |
| 24 | Moonlight On The River (Instrumental) | 6:56 | |
Duration:

1:21:03
Genres:
℗ 2017 Royal Mountain Records
© 2017 Royal Mountain Records