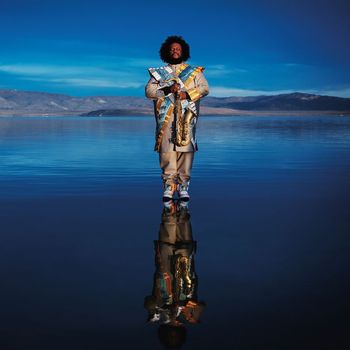 Preview Heaven and Earth
Record Label:
Young Turks Recordings
7digital

What we said:

The king of the current jazz scene is back with album number two, and it's as smooth and engrossing as you'd expect - but it's more overtly political this time around. Los Angeles saxophonist Kamasi Washington shot to fame following his work on To Pimp A Butterfly, and his latest feels in keeping with the searing commentary of that release, dealing in impassioned reality and celestial imagination. A double album, the rallying cries on the Earth record are met with dreamy aspirations on the Heaven disc. It's not as serious as that might imply though - both albums cascade with sleazy '70s-film-soundtrack-esque sounds that are a lot of fun. On Heaven and Earth Kamasi Washington proves himself and his band to be more ambitious and immersive than ever.
Disc 1 of 2

| Track Number | Track Title | Track Length | Track Price/Buy Link |
| --- | --- | --- | --- |
| 1 | Fists of Fury | 9:43 | |
| 2 | Can You Hear Him | 8:54 | |
| 3 | Hub-Tones | 9:10 | |
| 4 | Connections | 8:24 | |
| 5 | Tiffakonkae | 9:24 | |
| 6 | The Invincible Youth | 9:53 | |
| 7 | Testify | 5:44 | |
| 8 | One of One | 9:50 | |
Disc 2 of 2

| Track Number | Track Title | Track Length | Track Price/Buy Link |
| --- | --- | --- | --- |
| 1 | The Space Travelers Lullaby | 10:31 | |
| 2 | Vi Lua Vi Sol | 11:07 | |
| 3 | Street Fighter Mas | 5:58 | |
| 4 | Song For The Fallen | 12:41 | |
| 5 | Journey | 8:51 | |
| 6 | The Psalmnist | 7:18 | |
| 7 | Show Us The Way | 6:51 | |
| 8 | Will You Sing | 10:13 | |
Duration:

2:24:32
Genres:
℗ 2018 Shoto Mas Inc. under exclusive license to Young Turks Recordings
© 2018 Shoto Mas Inc. under exclusive license to Young Turks Recordings